Meet The Bayside BMX Team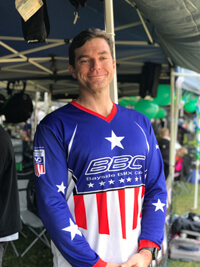 SEAN O'CONNOR
President
Sean started riding BMX in the mid 1980s with his sisters. They didn't live near a club so his dad built them a track they could ride with the other kids in the area. After his bike got stolen in the mid 90s, Sean switched to racing Mountain Bike and road but returned to BMX in 2015 when his daughters started riding. "I couldn't get them off training wheels and randomly a really great BMX coach in Townsville stepped them back to balance bikes. We moved to Brisbane a month later, found Bayside and the rest is history". Sean loves BMX as it is a sport the whole family can be a part of. Why the race number 138? I had no idea what number to run. When it was time to pick a number I had just been listening to the Misfits song 'We are 138' so I went with that. Sean volunteers as coach for the beginner & under 8s with the aim of helping the kids develop skills and confidence to get them ready for racing. Outside of BMX when not raising 4 kids, Sean is an engineering project manager with electrical, electronics and mechanical trades and an MBA in Supply Chain & Logistics. He also volunteers as the Deputy Chair for the State Consultative Committee for Workplace Deaths and Serious injuries to support families who have lost loved ones & lobby for improvements in WH&S & Electrical Safety laws.
Wayne Macchion
Vice President
Wayne started riding BMX just this year in February 2021 when his youngest child Vinnie started racing. Like most of the other parents that ride, Wayne got very jealous of his child and thought to himself "I can ride faster than that". He loves the community atmosphere at Bayside and is super pumped he selected Bayside as his home track and is now an avid promoter of the sport and the club. Wayne can also be spotted around various MTB locations in SEQ but rumour has it he isn't great at that either, even though he raced MTB last century in the 90's. His main job outside of the club is raising his 3 kids with his wife Kellie and sometimes pushes pixels around on a screen as UX/UI designer. He loves taking his family on camping holidays especially beach locations where hopefully he gets a surf in too.
Laura Fanning
Secretary
This is Laura's 5th year at Bayside and Brody is only 9! It's a great club to be part of. The Fanning's look forward to every gate night and club race day. They believe the volunteer spirit shines through each week and especially for our big State series events and shootout rounds. Laura is looking forward to joining the committee as Secretary. So much has been achieved in 5 years and Laura knows there are lots of exciting times ahead for our riders. PS – Laura is the lady behind making the amazing fudge sold at our big race days too.
Leigh McCarthy
Treasurer
Leigh and her husband Troy first brought their boy Liam down for a ride as a mini wheeer and soon became hooked moving onto his micro in no time at all. It wasn't long before Flynn decided he wanted in on the action and was signed up to. A mini wheeler! Not to be left out Jacko also jumped in a bike and before they knew it they were trudging along to gate nights and race days. Leigh wanted to help give back to the club and with her knowledge and background Treasuer was the perfect fit. The McCarthys are always there to lend a hand with track maintenance, it's a family affair with all members pitching in whenever the club needs it! 
Melanie Warren
Registrar
Mel has been part of BMX for 13yrs and although you won't find Mel on a bike (try as we might) she loves the sport as much as we do! As Team Manager for Lauren, Mel keeps her in the right place at the right time with the necessary gear for all events and says that alone is a FULL TIME job. Mel has an amazing understanding of the sport and every thing that it entails from bike size, to plates, rules and regulations and everything in between. If you have a question about the sport Mel is your go to. Mel's love for volunteering and BMX officials course has brought her to officiate at Club, Local and State levels.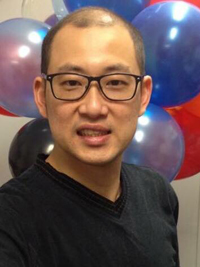 THOMAS KEE
Assistant Registrar
Tom has been part of Bayside BMX Club for around 6yrs. Tom's sons Mic and Frank are keen BMX riders and have been riding for 7yrs for Mic and 1yr for Frank Back in the day you may have seen Tom racing around the track a few times, however it didn't take him too long to reconsider. Tom owns and runs a phenomenal shop called The Roll Shop he figures BMX accident = No shop open.
Dan Buckby
Track Director
Dan's daughter Isla joined bayside bmx at the end of 2021. The club was very helpful with her starting out and though out the year. Dan decided to join in buying a bike himself . Growing up in Wynnum, the track was more than familiar to me. When not spending time with my wonderful wife and two girls I am a site manager for a commercial building company. 
Angela Haines
Grants Officer
As a dedicated mum and in the executive team of a NFP who is familiar with writing grant applications and applying to various funders for financial support, Angela was compelled to apply for this position when she attended the last AGM and witnessed first hand the dedication and commitment of the committee and members of this great club. Getting her kids active and following their passion is her passion, and her boy has just found his love of riding. Angela and her husband found the club to be very friendly and welcoming, and Ange looks forward to seeing what success we can have together in applying to Trusts and Foundations this year for Bayside BMX Club!
Lauren Cavasin
Sponsorship, social media, Under 8's & Mini Wheeler Coach
Mel's wife Lauren joined Bayside BMX Club in 2019, Lauren rides not only for fun and fitness but to race and compete. Lauren decided sitting on the sideline wasn't as fun and she wanted a piece of the action so she secured herself a 20″ and away she went! Lauren choose to focus on her 24″ cruiser in 2021 but continues to race both bikes. Lauren loves the sport and the wonderful opportunities it brings for her to get out and enjoy the many tracks QLD has to offer as a family sport Lauren races in the 40-44 year age bracket and loves the sport so much she would ride everyday if she could! Lauren loves to see the younger kids out there having a go, having fun and finding their love for the sport. She promotes that love of BMX by coaching the Mini Wheelers and under 8's trackside each week
Mandy Taylor
Canteen Assistant
Mandy is a mum of a mini wheeler who took interest in BMX in August last year. As a family they had been going down to the track by themselves and riding when we met Kat. They were then invited us to come down to gate night and from then they became a member of the Bayside Family. Mandy's partner Tim then decided he wanted to join gate nights and became a member too. From then they have loved being at every gate night and Sunday race days. Mandy had always dreamt of being a mum to kid who loved to ride. She is looking forward to supporting the club and volunteer where she can. Mandy is looking forward to meeting new friends and getting to know you all. She loves camping, spending time with her family and any adventure thrown at them!
Nickky Cranney
Canteen Assistant
I have been a part of the club since around November 2022 , you will find me running around in the canteen or out supporting my daughter. I got into BMX through friends encouragement but also Savannah's interest in all things bikes. The people & the atmosphere at Bayside is what makes you want to be a part of something that builds community connection. I love that I have recently purchased my own bike, cruising around with my daughter enjoying everything BMX has to offer.
Emma Gronke
General Committee Member
Emma is the mum of Daniel and Ethan who dragged her along the BMX track to practice on the hills in 2021. Shortly after, the boys decided they wanted to participate and learn BMX racing. She loves what a great community the club is and how everyone is willing to help the younger ones learn and be more comfortable on the track. Emma is looking forward to being able to help out on various club projects.
Tim Goodey
General Committee Member
Tim started with the club mid 2022 when his young son Wes started riding with the mini wheelers. Didn't take long before Tim got jealous of all the fun he was having and decided to jump on a bike and start giving it a crack for himself. Tim really developed a passion for the sport of bmx and is absolutely amazed by the community he has become apart of at bayside BMX club.
Become part of our Committee
The committee comprises of Mums and Dads from all walks of life; most have never been involved in BMX or knew anything about bikes until their kids started racing.
The Bayside BMX Club is run by the riders and/or their Mums and Dads. We share a deep passion for the sport and the community built around it. Whilst most of the visible work can be seen on gate nights and racing nights, there are behind-the-scenes works being undertaken at all times. The existing team comprises of people from different backgrounds. This diversity has continually contributed to the growth and the dynamics of the club.
New committee members are always welcome. Whether you want to learn more about the sport, interested in the mechanics of the bikes, keen on making a difference, or simply want to be part of an exciting group, the Bayside BMX Club has a place for you! Monthly meetings are typically held on the third Wednesday of every month.
What are you waiting for?